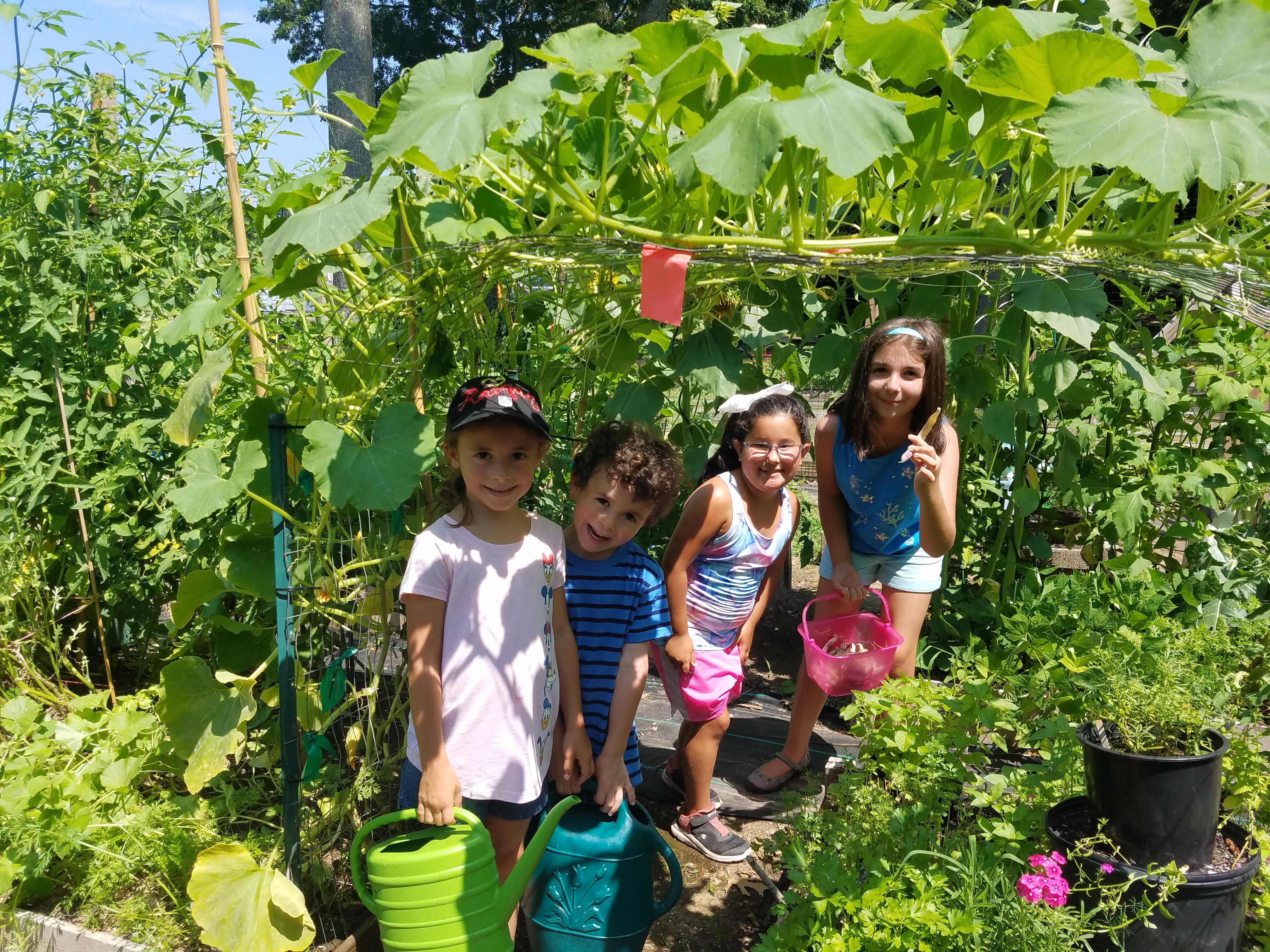 What is the Stony Lane Outdoor Classroom?
Our Stony Lane Outdoor Classroom is unique to any other NK Elementary School. It is an amazing resource and learning opportunity that is the direct result of parents' vision, hard work, and dedication for an outdoor extension of our students' learning experiences. It requires the involvement of parents and SL staff alike to, quite literally, grow and flourish as it is not self-sustaining, funded or maintained by the school department and requires parent volunteers most of the year (especially in the summer) to keep it going.
Our Stony Lane Outdoor Classroom is committed to the curiosity of the outdoors. Using nature as our learning lab, it provides spaces for classes to explore while reinforcing curriculum. With "hands on" enrichment activities, students are encouraged to be curious and to realize that there are no mistakes-only growing opportunities. The Stony Lane Outdoor Classroom (SLOC) has 2 branches that are intertwined: Classroom and Giving Gardens. The "Classroom" branch incorporates a range of activities such as science kits, math and STEM concepts, social studies, PE, reading, and art. In fact, the most frequent activity in the SLOC this past year was Music with Mr. Dwyer!
The second branch is the "Giving Gardens", which is our grow-for-donation garden, feeding NK families since 2011. We are thrilled to say that last year's 2020 growing season produced over 780 pounds of fresh produce! The Giving Gardens is a collaboration of our Garden Club and class enrichments activities, running through the summer and is currently the only on campus opportunity to volunteer. It is a relaxing space where families work together to help others and become a community. As the SLOC enters it's 9th year, it is up to our Stony Lane Family community to become involved in its upkeep and future direction - as it doesn't take care of itself or is maintained by an army of garden fairies! Come be a part of our SLOC community and this amazing and unique resource- Summer Workdays are Tuesday 4-7pm, and Thursdays 9am-12pm. Sign Up - https://www.signupgenius.com/go/20F0A4EA5AC28A2FE3-giving
Thank you! If you have any questions please contact- StonyLaneOCGarden@gmail.com
Community Partnerships
- URI School Garden Program since 2011
- Katies Krop's since 2012: empowering youth to start vegetable gardens of all sizes and donate the harvest to help feed people in need- 2019 School Garden of the Year
- Compass Outreach School 2019
- North Kingstown Food Pantry
- Garden Foundation of RI: Grant recipient 2018,2019,2020
Thank you to all of our sponsors/supports:
Katie's Krops
The University of Rhode Island Cooperative Extension
The Master Gardener Foundation of Rhode Island
The Compass School
Bonnie Plants
NK Food Pantry
Thank you to The Compass School Garden Outreach Program for hosting our visit recently! This is a materials and support grant from the Compass School Garden Outreach Program supported by Newman's Own Foundation, Whole Kids, and Main Street Resources. Florian and Guillaume were perfect partners with our Garden Team to share their thoughts on our future improvements to our outdoor learning space. Special thanks to Miss. Marshall, Mrs. O'Farrell and Mrs. Cogswell for coming!
The Compass School is a K-8 Public Charter School founded in 2002 in Kingston, RI, set on more than twenty acres of picturesque farmland. This unique learning environment offers students a continuous, multi-year educational experience. An integrated, project based curriculum provides the foundation to develop each individual as a cognitive, physical, social, emotional and reflective being.
http://compassschool.org/science-engagement-center/